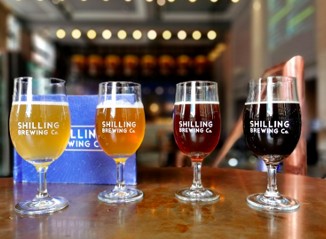 Impressive University finalists in Maltmen Awards 2022
The Incorporation of Maltmen in Glasgow sponsors an annual award for a students in Hospitality and Tourism Management at the University of Strathclyde. This sponsorship is awarded to a student demonstrating academic excellence and application of class concepts on relevant practical cases through an individual written assignment.
This year's Finals were held in February, and the judges agreed that all six student showed well researched and analysed reports on their chosen organisations.
The University of Strathclyde Hospitality & Tourism Management students were asked to:
1. Provide an overview of the value chain activities and stakeholder involvement
2. Discuss key contemporary issues and barriers, either economic, environmental or social the company faces
3. Identify potential value chain upgrading opportunities (practical recommendations for the company)
The six finalists were: Joanna Lindsay (Jaw Brew Bresery), Thomas Cockburn (Isle of Harris Distillery), Zita Toth (Clydeside Distillery), Emma McIntosh (Inverarity Morton), Lewis Cameron (Shilling Brewery) and Freya Hall (The Isle of Cumbrae Distillers).
Lewis Cameron was awarded the overall prize of a trophy/quaich to be held by the faculty with the names of the winners engraved, a cash price of £500, a paid invitation to the Incorporation's Annual Dinner at Trades House, lifelong membership
and publication of the assignment summary on the website or newsletter.
Please see below an extract from Lewis's project examining Shilling Brewing Co:
"Shilling Brewing Co is the first company to bring the "brewpub experience" to Glasgow. Sustainability is key in current times (White, Sindico, and Bell, 2020). The GVC will be used to show Shilling's strengths and weaknesses in the Inbound and Outbound Logistics, Operations, Marketing and Human Resource Management which are the biggest contributors to the value chain. The Porters 5 Forces shows there is low threat from new entrants but high threat from substitute products and existing competitors. A PESTLE Analysis was conducted but only the economic, social and environmental factors have been considered to focus on sustainability thus the triple bottom line. Supporting local SMEs does this perfectly by covering all three factors. The economic impacts are low production rates and large beer companies taking over craft brewers. The social impacts include alcohol abuse in Scotland a stagnating Glasgow high street people working from home during the pandemic and a male dominated industry and perceptions of beer being for men."